You can review the latest games played by chess players rated 2700+ on the board that you can activate on our main page. You may also download PGN of these games.
If you have your own site or blog, we are happy to offer you use of the Top 10 Players banner, including the new one we are now offering for the Top 10 women players of the world. These banner are updated automatically. That is, every time there is a change to the Top 10 of either group on our web page, your corresponding Top 10 banner is updated simultaneously.


The banner is a 300x250px .png image that uses only 8kb.

Just copy and insert the source code provided below into your index file. Then you will always be up to date on who are the TOP 10 chess players in the world!
Wide banner for women's Top 10:
The old style wide banner for men Top 10:
The old style wide banner for women Top 10:
If you want narrower banners, we can offer the following two 200px .png, which use only 6 kb. They also update automatically.






Narrow banner for Women's Top 10:


Wide banner for Highest Ever Live Ratings: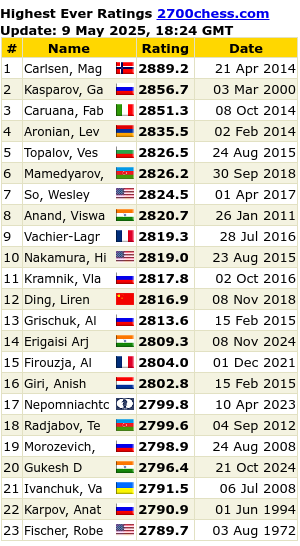 Narrow banner for Highest Ever Live Ratings: